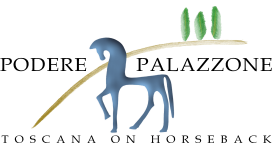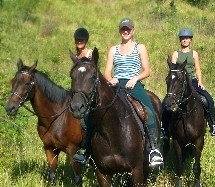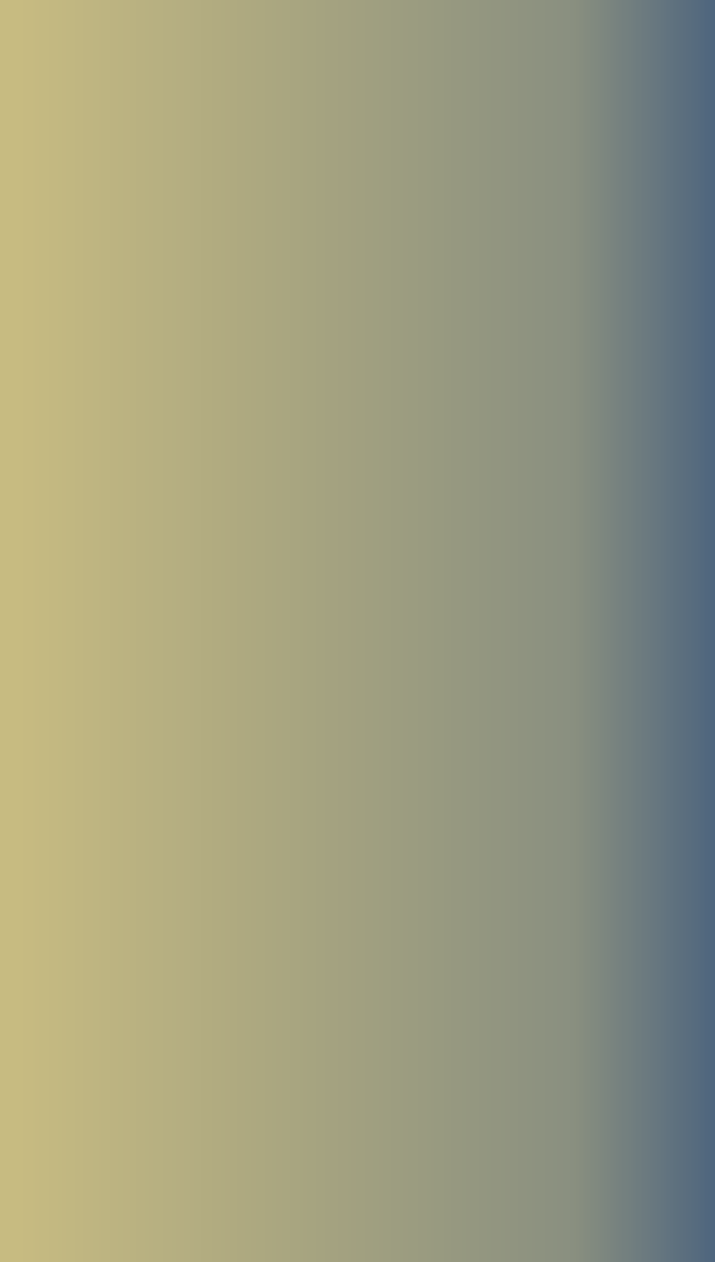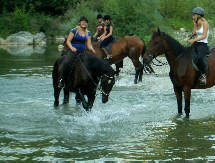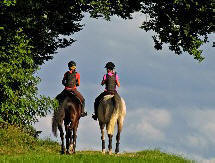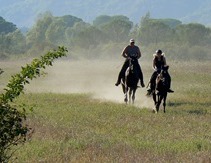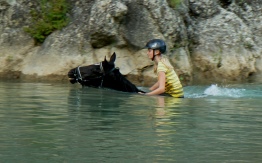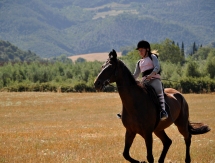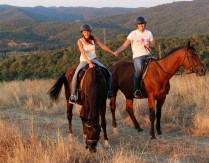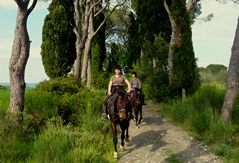 WEATHER




Our horses are not afraid of rain. Hence it is no problem riding also under bad weather conditions, well equipped - anyhow with the risk of getting wet. In summertime we avoid the hot hours of the day for the wealth of the horse and the rider and start our tours at 5 pm or 8 am.

Get to know the actual weather at Pomarance. Click here:



TARIFFS




arena 1 hr:
trekking 3 hrs:
trekking 5 hrs:


Price per person, trekking
minimum 2 persons or +40%
if single person, no credit cards,
payment at departure.



riding equipment
for rent
per person € 5.-
€ 32.-
€ 83.-
€ 137.-
"No hour of life is wasted that is spent in the saddle."
Sir Winston Churchill

Discover Tuscany in a most authentic way: Join us for a horse trekking holiday, riding through some of its most spectacular countryside. Enter the Natural Reserve "Foresta di Berignone", crossing deep forests, wide valleys and clear waters. Get excited when coming across local wildlife while riding a Hanoverian sport horse accompanied by a qualified equestrian trekking guide.

We start at the farmhouse Podere Palazzone (370 m), with view over Volterra and Pomarance, and ride through a classical Tuscany hillside scenery, surrounded by the smell of typical mediterranean herbs, to reach the rivers Cecina and Sellate with their unique fluvial ecosystems. We explore Tuscany's biggest Natural Reserve, located between 200 and 500 m, known as "Berignone Forest", with its vast extensions of deciduous woods, holm oak groves and scrubland, covering an area of more than 2000 hectares. In particular in summer we find pleasant refreshment here.

T
he forest provides important breeding sites for many animal species among which wild boars, deer and burrows. Numerous predators will observe our paths from the above. Wild valleys, narrow gorges and ruins of medieval settlements, such as the Castello dei Vescovi (IX century) turn our horse trekking into a genuine adventure. Within the Natural Park, where the river Cecina forms a narrow canyon, you may enjoy horseback-swimming in the clear waters of the hollows at the "Masso delle Fanciulle" - an indescribable emotion. Finally, at the light of a breathtaking sunset, we ride back to the stud and farmhouse Podere Palazzone at Pomarance.

Our offer ranges from easy trails, suited to relaxed horsemen and to beginners, who aim at simply enjoying Tuscany on horseback, to challenging tracks for expert riders, that include tracks through steep gorges and extend gallop on open fields. Click on this link for riding the "Masso delle Fanciulle" trekking virtuallyand visit the photo gallery
.







Our horses are Hanoverian sport horses (see Hanoverians) with best blood lines, trained in English riding with care and dedication, following a gentle approach in education. They are grown up at our own breeding station, that since 15 years delivers rideable, noble, well framed and correct warmblood horses with spectacular movements. On the basis of their natural abilities, their temperament and character they are suitable as performance horse and as pleasure horse, offering you willingly the emotion of extend gallop.

To make the tour even more exciting you may opt for our pick-nick break, our rich buffet of Tuscan specialties or, for the gourmands, continue the adventure with a barbecue at the river (depending on season). For groups of minimum 4 riders it is our pleasure proposing a longer tailor made horse trekking through this part of Italy, combining horse riding with culture, farmhouse holiday including accommodation in a b&b or half board country house, delicious Italian food, good wine and the traditional hospitality of Tuscany.

On horseback it is paramount being able to communicate not only with your horse but also with your guide. We do fluently speak English, German, French and Spanish. We are experienced equestrian guides, qualified by ENDAS Italy, and our guests' safety is a key issue to us. All horses are assigned according to the ability of the rider, who in any case has the obligation of wearing a cap.

High quality horses, trails of extraordinary beauty, level of difficulty adapted to the rider and a touch of adventure, these are the values we are committed to for turning your riding holiday into something really special.

return to top