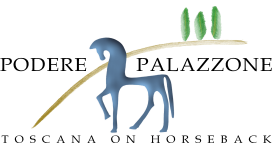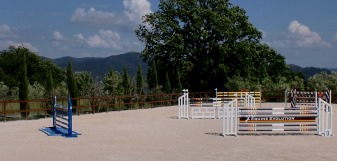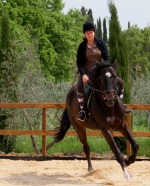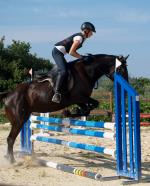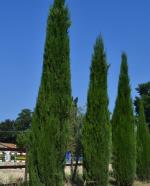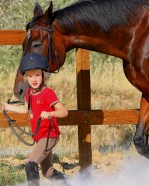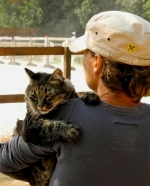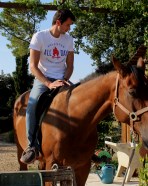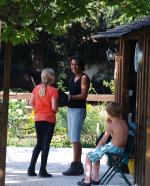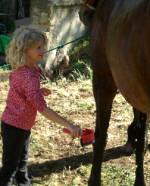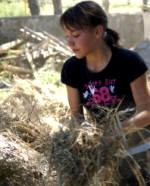 "There is no secret so close as that between a rider and his horse."
R.S.Surtees
At the riding school "Toscana on horseback" of the stud-farm Podere Palazzone we offer horse riding courses in the arena. On individual basis or in small groups we teach English riding and more generally all you need to know to become a real horseman and practice horse trekking during holiday: from breeding to horse psychology, health, feeding, grooming and stables management.

Our courses start with a sound knowledge about equine anatomy and horse behavior, on the basis of which we develop riding techniques in line with the horse's way of being and acting. Indeed, riding is not a question of forcing a horse to execute a certain action by pain and fear, but stimulating the horse to do so with self-motivation. A positive dialogue between horse and rider is needed, which we help creating.

We very much focus on a correct seating, which is the basis that allows the rider using his body as tool of communication with his horse. In particular while training adults, we follow the concept of "centered riding" promoted by Sally Swift. Only when the rider's body is perfectly synchronized with the horse's movement and rhythm the horse proceeds freely and willingly, disclosing its full potential. This is how horse riding becomes surprisingly easy and incredibly inspiring.

For experienced riders who aim at improving their riding style during holiday in Tuscany, we offer training in both show jumping and dressage. To those athletes, who practice horse riding as a competition sports, we offer the chance of coaching them in their sportive career, also on our Hanoverian sport horses.


A
t our riding school we employ nearly exclusively Hanoverians. All horses have proven for many years their rideability, bounty, sportsmanship and reliability (see Hanoverians).

Adjacent to the ancient farmhouse and stables of Podere Palazzone we have a 25m x 60m arena in superb silicium sand, surrounded by the vineyard, the olive yard and a cypress alley. The arena can be split into smaller school courts, it may be shaped as a traditional dressage arena or host a show jumping course. The riding teachers who care about you are experienced trainers, qualified by ENDAS Italy, and all perfectly multilingual.

Horse riding is a sports which educates and develops the body at all ages, in particular with regards to the known "weak points" such as the back, the bearing and the body-coordination. But that's not all. It promotes important social and inner values such as persistence, discipline as well as respect towards nature and animals. It stimulates concentration, increases self-confidence and trains to insert oneself without bossism. Discover with us the reason for all that passion!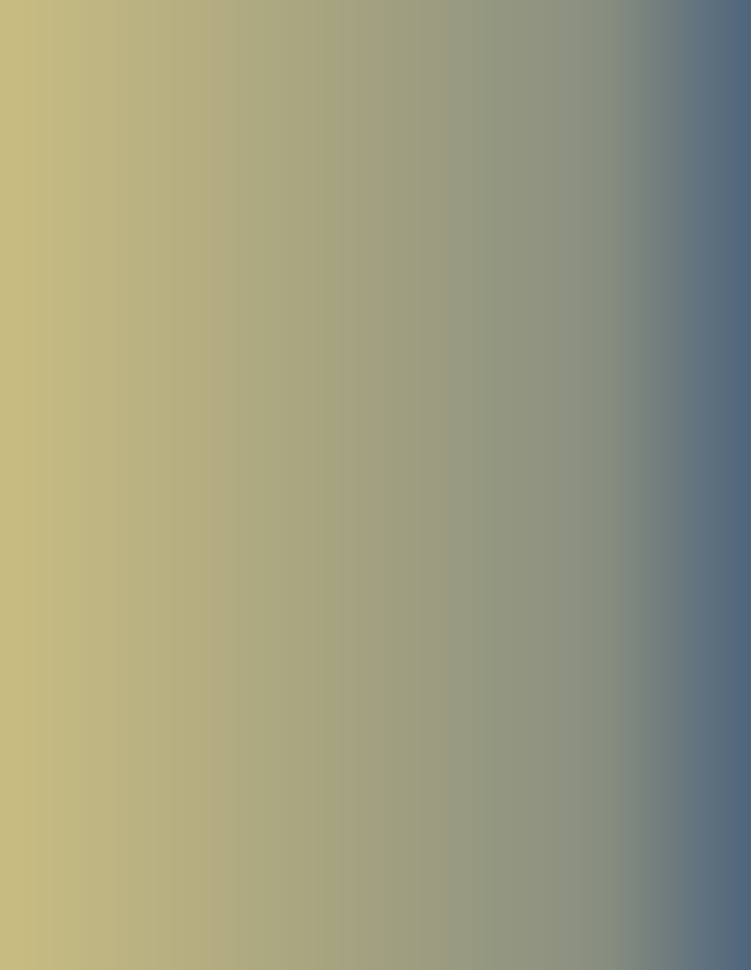 return to top